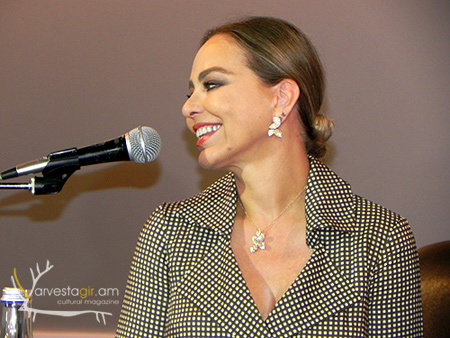 In July 12, 2015,  in Yerevan was a real fest. In the streets youth (and not only) was spraying water on each other, celebrating Armenian traditional Vardavar, and in the Moscow cinema was beginning another fest –  the 12th international film festival "Golden Apricot". Armenia has long lost its connection with world, and now very quickly and effectively restores it, creating another, beautiful atmosphere for us , which the most of our  society missed.
So, before the opening of the film festival, held a press conference of the Italian actress, the beautiful, graceful, intelligent Ornella Muti. Ornella as beautiful as in her movies and her femininity has no boundries. During the press conference the actress told about her first movies and their influence on her career, she did not rule out that someday we will see her in the role of director. She talked about happiness, mentioned, that happiness is in moments, talked about her "love story" with Adriano Celentano, which, we note, never have been, she spoke about her friendship with the author of her dresses, Ukrainian designer Ulyana Sergeenko, and of course she talked about the festival.
The presence of Ornella Muti in the red hall of Moscow cinema and the youth, celebrating Vardavar on the streets was kind of unusual connection of two absolutely different cultural phenomens during the 12th international film festival "Golden Apricot".
Thanks to the festival.
---
Photos by Heghine Khachatryan