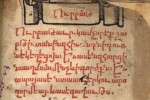 URBATAGIRK
Venice, Hakob Meghapart's ptinting.  1512
Title page – "anun grots e surburbatagirq".
It is the first Armenian printed book, that is done by the founder of Armenian printing HakobMeghapart.  It consists of 124 pages. The print is done with black and red colors by the type «boloragir», which is similar with the typeface in minuscriptes. The book has no page numbering. It had applied meaning and was used among the merchants (salesmen).  The book is a collection of prayers and wishes.  We can see lots of texts about magic means to be released from the wick strengths. In that notes the place of name is left empty in order to give apportunity to fill it by the owners of the books. There is no notes about the process of the printing .
The book has the following printing sign:
I. Z. A.
D- Dei [servus]- [servant of] God
I –Iacobus –Hakob
Z- Zanni  -Hovhannisyan
A-Armenus – Armenian