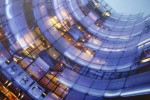 In may 29 in the gallery "Sargis Muradyan" opened an exhibition of well-known journalist Mark Grigoryan, titled "Diversity of London through the eyes of Mark Grigoryan". In London, working in BBC, Mark Hrigoryan made lots of photos, where London presented from different point of view, unusual for those who associated London with Big Ben, Buckingham palace, with aristocratically reserved and "right" architecture or an Englishman with a good sense of humor always drinking tea. But Mark Grigoryan shows another city where is living many foreigners such as him, they live with their culture in this too "correct" city, which is full of joy and sorrow, "crazyness" such as everywhere.
Mark Grigoryan recorded "organized" freedom of "reserved" and "right" city, and this photos help us to see London in different way, the way that we didn't know, and we can add all this to our representation about this city.
In his opening speech, Mark Grigoryan noted that it is his first exibition, in which he wanted to show his London, where he lived for 11 years. The author dedicates the exhibition to a famous photographer Ruben Mangasaryan.
The exhibition is open until June 11, so hurry up to see London through the eyes of Mark Grigoryan.
---
---
 Photos by Hegine Khachatryan