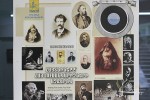 On 12 June 2015  at cultural centre "HayArt" opened a wonderful exhibition "Famous people through the eyes of Armenian photographers". The exhibition presents more than 150 works of 20 artists, some of which are the originals. This photos are from the personal collection of Andranik Qochar.
"Arvestagir" visited this exhibition, while there's still no one there. At the entrance we met Andranik Qochar's  son Vahan Qochar, who gave us tour of the exhibition and told about each photographer. The whole room was filled with strong energy. The people in the pictures, their eyes are incredibly different, you can't meet these eyes today. Each photo is a different story about the people on it, the monument and the photographer. Being in the hall, listening to Vahan Qochar, it is possible to be in 19th 20th centuries, see how photographer captures the facial features of his characters, puts on the lights, talk to them during capturing, in short to feel a part of his creative process. Photographers that presented here had been published in the book "Armenian photographers".
So, at the exhibition showed the works of Garry Kuntakchyan. He was the chief photographer of the Beiruth branch of "Associated press". Artashes Vruyr Arami has worked with many archaeological expeditions, twice on foot reached the temple of Garni and photographed its ruins, and also to Geghard. In this exhibition you can also see the works of the founder of Armenian photo essay Nemruth Baghdasaryan (you can read about him in our website), Gurgen Ruzgeryan, Manuk Poladyan, Brothers Abdullah, Grigor Ter-Ghevondyants, Antoine khan Sevrugin, who was invited to the palace of Naser-ed-Din shah as the chief court photographer, Hovhannes Kiurkjyan, Poghos Poghosyan, Yusuf Karsh, Ara Guller and many other Armenian artists. Here you can also see the works of Andranik Qochar and also his son Vahan. In the interview Vahan Qochar said, that soon will come true Andranik Qochar's dream: this works will take place in the Museum of photography. We also subscribe to this dream and hope that soon in our city will open this museum, which we need for a long time, as photos like painting must be presented in exhibition halls, moreover, that our history of photography is rich and will be rich.
The exhibition is open untill July 12.