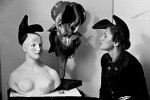 The modern world of art is full of great interest of making money and often ignores the real artistic value of the artwork, as its cash value is often more important parameter.  The value of artwork is determined by its market value and this is what a long time the artists, collectors and art dealers, for whom the process of buying and selling works of art is a way of making money and prestige were looking for. It was formulated a certain structure of values, which indicates the high status of the owner of a "thing", whether it be clothes, furniture or car. Art occupies not the last place in this structure. But despite the six-figure price tags of artworks, it is not completely transferred to the category of "things", remaining its attractive and incomprehensible, inaccessible and exclusive nature. Of course the eternal values of beauty are mostly the same today, but the aesthetic ideals of the past and modern ideals as glamorous  girls and other innovations in the fashion world almost act at the same time.This is where we can speak of the contact points between fashion and art. In the process of communicating with fashion modern artist has the opportunity to consider it as another discus about beauty, or about what was left of it.
As a result the collaboration of fashion and art is mutually beneficial. Art helps fashion to be close to the high concepts of beauty, and gives artists the opportunity to express themselves in the legendary world of fashion. This mutually beneficial cooperation in recent years has become the extent of museums, major collectors and individual galleries.
For example the main activity of Francois Pignon _ one of the largest collectors and museum owner of Punta della Dogana, is the  manager of the PPR holding company, which, as it is known, connects the famous fashion houses Stella McCartney, Balenciaga and Gucci.
This means that a successful business in the fashion industry gave an opportunity to become an influential collector to Pignon, who is able to invest in contemporary art.
In Florentine Biennale of 1966 was shown an exhibition under the heading of "Time and Fashion", in which such modern artists and designers like Miuccia Prada and Damien Hirst, Azzedine Alaia and Julian Schnabel, Helmut Lang and Jenny Holzer worked together [1].
And finally, art and fashion are not so different worlds. After all, a work of art, and also the clothes are being evaluated depending on the name of its creator. But, of course, it is one thing to advertise a young designer, and another thing to focus public attention on a young but promising artist.
In this case, the investor is considered to be not only the initiator, but also someone who can guess the demands of the modern world and not just dictate fashion trends but also satisfy them. Today, the expression "high-class" has a meaning of "cultural", but the buyer needs to be shown, that in front of him is not only clothes or accessories but a contemporary work of art, that time to time can be used in everyday life.
Another interesting example of the relationship of art and fashion is a direct effect of art on fashion. Thus, the introduction of Salvador Dali, Jean Kakto and flamboyant designer Elsa Schiaparelli led to a sensational collection. Brilliant madness for three. It is difficult to say what the things by Schiaparelli are. Aren't these things surreal art?
There are also a lot of examples, when designers take shapes, color relations and ornaments from different fields of art history. Recently, the autumn-winter collection of Dolce & Gabbana struck the whole world with its refinement uniting of the Byzantine mosaic art and modern fashion trends. Here we can see a new kind of cooperation between these two worlds, and it should be noted that this is a very interesting step for having the proper the final result. And the final result in this case can be considered the uplifting of contemporary fashion to the level of art, or rather to proof this fact. Fortunately at least a good example can be cited also from the Armenian fashion world. Vahan Khachatryan's collection of 2014-2015, the "Treasures of Armenia" are excellent example of the connection of Armenian medieval miniatures and modern clothing.
Fashion and art being combined also by different strategies of fashion houses and designers: So, in 2010, Frank Gehry was invited to build a building for Louis Voitton (LV Foundation). This brand is known as one of the most successful in  fashion world. And another fashion house Miuccia Prada built a huge Pavilion of the brand name (Prada Foundation), in which are being organized international exhibitions, discussions and other cultural events. In this case is important the fact of cooperation of known curators and people who are known in the world of fashion.
As a result, Prada is not only a fashion house now, but also a company which has a huge impact on the world of art. Time after time the attitude towards fashion is changes, as buying shoes from Prada, the  buyer makes contribution to the development of modern art.
Another good example of cooperation between fashion and art gallery is the Chanel Mobile Art, for the creation of which architect was inspired by the shape of fashionable handbags. All works of art are presented so, as if they were inside a huge bag. Who knows, maybe shopaholics will buy modern art with the same pleasure. This kind of turnover tends to the whole world today. In any case, sometimes trendy shops sell artworks with clothing. Such fashion sales in recent years can be found also in Armenia.These and other examples show us, that in the contemporary worlds of fashion and art has the same rules, the same persons and financial problems, and they all serve the same result _ making money.
Bibliography
«Искусство в XXI веке», Сборник статей, Санкт-Петербург, 2012
Бодрийяр Ж. Общество потребления: его мифы и структура. М., 2004.
Translated from armenian.