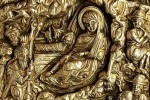 The Cover of the Gospel of Sea is a splendid work of art. The Gospel was illustrated by Sarkis Pitsak in 1332. Its cover was prepared after illustrasions, in 1334, by the order of priest Gregory, in Sis.
The cover of the Gospel of Sea is made of silver, gilded. The scene of crucifixion is on the first face, where the Christ is represented. The cross-wood is approved in the hill of Golgotha, where the head of Adam is seen. At the bottom we can see city buildings as a background.
Three women stand at the right hand of the Christ. One of them, which is closer to the Christ and raise her hands, is Godmother.
The second woman is repesented with the drops of tears and raised the skirt of coat to her face, which is a sign of mourning. And the third one is sad with folded arms. John is on the left side of the Christ. He is represented with the Gospel on his hand. We also see a military with shield. The heavenly luminaries: the sun and the moon are seen up to the horizontal wings of cross. Two angels soar in the corners.The left one take his hand to his cheek as a sign of mourning. The frames with ornamental motives are edged the scene. The four Evangelists are represented in the corners of the frames. St. Sarkis's and St. George's, David's and Solomon's images are also visible.
The scene of Nativity (the birth of Jesus) is depicted on the second side of the cover. There is an inscription, which gives information about the origin and the receiver of the cover.
We see invented and developed iconography in the composition. In the center, in the cave, the Virgin is. Master represent the folds of Mary's dress with a great skill. Before him the kid Jesus is, put in the ornate manger, where an ox and an ass stretch their heads.
Three magi with gorgeous dresses and their gifts knee down forward the cave. Eight-rayed star is on the head of cave with two angels on both sides. Here we mention also three shepherds, Joseph with his head in his right hand, thoughtfully and the scene of shower.
The scene is taken in the luxurious frame, which consisted of two layers. One represents ornamental, decorative chain, the other depictes an inscription.
On the four corners of the frame are human faces: above Zechariah and Yezekile, bottom probably Isaiah and Malachi. Garegin Hovsepyan think that the scenes of Crucifixion and Nativity were made by various masters, as greater mastery is shown in forming the second face.
The scenes, represented in the silver cover of the Gospel of Sea, have similarities with the miniature of 13-14 century.
Sources
Յովսէփեան Գարեգին, Մի էջ հայ արուեստի և մշակոյթի պատմութիւնից, Հալէպ, 1930
Չուգասզյան Լևոն, Երուսաղեմի հայ արվեստի գանձերը, ՊԲՀ, 1980, Nº 2
Narkiss Bezalel, Armenian Art Treasures of Jerusalem, Jerusalem, 1979