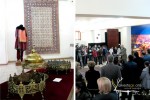 On March 29, at 15:00 pm  Yerevan History Museum was opened an exhibition, entitled "Dialogue of  the Cultures". In the collection of  Yerevan History Museum, a separate part is formed with the items of Eastern cultures, among them the Iranian ones. Eastern culture is known to be luxurious and full of colors. This is evident in the items  used in the 18-19th c.:   carpets, fabrics, national costumes, miniatures, paintings and various copper vessels used in household (more than 70 exhibits). Iranian miniature painting has an honorary place in the world of the painting arts. Protecting its traditions and national peculiarities at various stages of its development it has been affected by other Eastern cultures. Meanwhile it has had much influence on the formation and development of the miniature schools of Iran's neighboring countries.
    Iranian miniature painting was established and flourished in medieval towns and cities: Shiraz, Tabriz, Herat, Mashhad, Kazvin, Samarqand, Maragheh, Isfahan and others.
      The development of miniature art in Iran was conditioned by the fact that it enabled the painters to create images reflecting the reality and representing the surroundings and the real world, and which is most important to create human figures while the Islamic art preferred to speak in the language of ornaments and symbols.
   Miniature studios were mainly established by the court with the initiative of the ruling dynasties and this is the reason why the painters gave a great importance to the taste and preferences of the king, nobleman or the client. It is not accidental that Iranian miniatures are of "Court style" or solemn.
     As a result of all these, the key Topic of many miniatures is the life of the Shah, his personality and his relations. Miniature art has always been patronized and appreciated often in the form of rewards or titles by the representatives of the ruling dynasty.  In the present exhibition is also represented a set of miniatures painted by an unknown artist of the 19th c.  The exhibition will be open till the 10th of March.  Admission is with museum tickets.