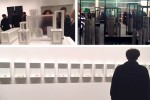 Edmund de Waal is one of the progressive artists of our times who is especially known for his ceramic works. The conversation of the subjects' ratios, tones and forms is the harmonious thing that becomes original, not ordinary, simple and wonderful in his works. The works are being made like music notes and they get architectural rhythm. And in this case it`s impossible to forget that talent at first is the sense of moderation.
The British artist Edmund de Waal was born in 1964.He graduated from the Cambridge University, the department of English. He studied pottery in Japan. He is the author of some paper works about art and pottery. His book « The Hare with Amber Eyes (2010) » has received numerous literary prizes and has been translated into 30 languages.
In 2013 in New York Gagosian presented Edmund de Waal with the solo-exhibition and now Edmund is one of the most successful artists.
In 2011 he was awarded the British Empire order for his services in the field of art.
The  collection of Edmund de Waal titled  «Ten thousand things» will be presented from the 14th of January to the 18th of February 2016 in Gagosian gallery in Beverly Hills.
Photo report by Ani Tadevosyan