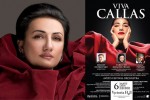 In these days in Victoria Hall situated in Genève will be held the first concert of  "Viva Callas" concert series during which will be presented opera compositions from  the world famous soprano Maria Callas' repertoire.
The initiation and implementation of the concert series named "VIVA" was by  "Avetis" festival orchestra which was recently founded by  "Avetis" Armenian-Swiss Cultural Association.
The founder of the orchestra and foundation is our compatriot, opera singer mezzo-soprano Varduhi Khachatryan. As the singer mentions. "The orchestra will consist of Swiss and Armenian musicians living in Switzerland, soloists and conductors of Armenian descend will take part in each concert".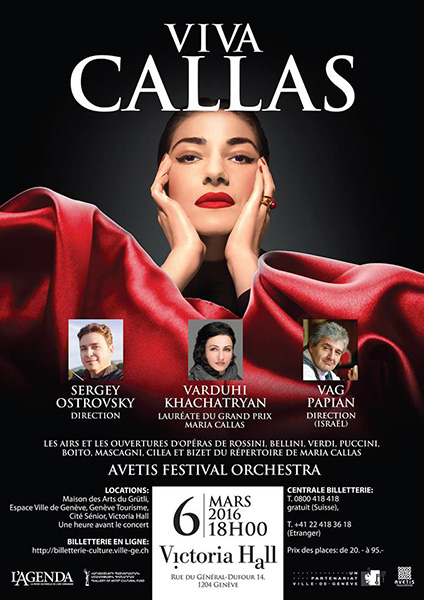 What refers to the orchestra according to the founders it will have very flexible staff, it means that enlargement and reduction of the musicians will be done according to the requirement of the concert program. The aim of the orchestra iis to represent orchestral works of Armenian composers, to introduce young and new as well as already famous conductors and musicians to the European audience.
"VIVA Callas" concert well be led by world famous Armenian pianist and conductor Vag Papyan who is invited from Israel. The chief conductor and art director of the orchestra is popular violinist and today already a conductor Sergey Ostrovskiy.
"The first concert "VIVA Vivaldi" was devoted to Vivaldi's works , where Vivaldi's connection with Armenia was highly presented, during the concert there were parts from Vivaldi's "Tigran the Great" opera. Each "Viva" concert has its own theme and is dedicated to a musician or a specific direction" detailing Varduhi Khachatryan about the orchestras activites . "VIVA Callas" concert series are expected to  represent also in New York's Carnegie Hall and Paris's Salle Gaveaux.
---
And why they decided to refer to Maria Callas, the singer  answered: "The idea of "Viva Callas" was born a few years ago when I as the "Maria Callas» GRAND PRIX winner was invited to Athens to sing in the concert dedicated to Callas, after some more invitations followed, and the most important for me was  my solo concert series  in European cities: in Antwerpen, Amsterdam, Copenhagen, Geneva and of course in Yerevan, which was also dedicated to Callas 90th anniversary, it had a great success and the audience  asked to repeat the concert, after that, the idea to create "Viva Callas' concert series was born. This project was a link for a close relations between "Avetis" and "Arts' Gallery" cultural foundation founded by Mariam Shahinyan".
Varduhi Khachatryan was inspired of Maria Callas talent since an early age, when she heard Calla's works in his father's collections who is the national artist of the Republic of Armenia, opera singer Albert Khachatryan, and at that time she decided to become an opera singer and to performe her songs.
Swiss-Armenian cultural association "Avetis" which is located in Geneva will soon be celebrating the 5th anniversary of its creation and maybe for that reason "Avetis" festival orchestra was founded, which is a nice present for armenian musicians and art lovers.
---
Author Liana Hayrapetyan