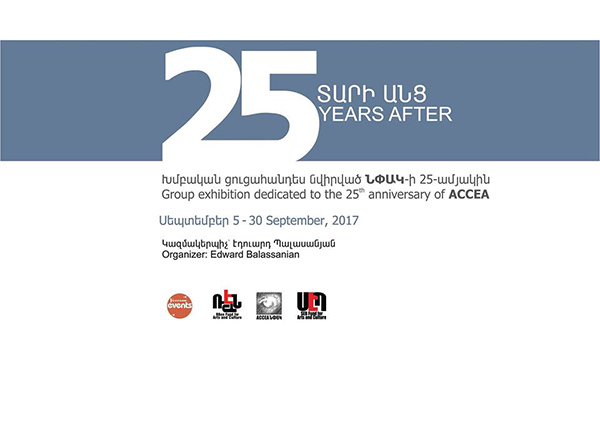 Group exhibition dedicated to the 25th anniversary of ACCEA. Opening in September 5th, 2017, at 19:00 in ACCEA.
We took off at the morning dawn…
The treacherous road was calling and calling…
Yeghishe Charents
Our journey started in Yerevan in the summer of 1992, one year after the emergence of the Third Republic of Armenia. We set sail with the belief and conviction that we could make a difference. We set our goal at providing artists and enthusiasts of arts and culture, traits of tolerating differences, and protecting and nurturing freedom of belief, thinking and expression, which we believe should be the raison d'être of every society. "Quest for new frontiers" has been our motto from the very beginning, coupled with honesty towards personal inner feelings and daring to express them. We also believe that experimentation is the backbone of progress and its moving force. Our road has sometimes been rough and bumpy. We have endured for quarter of a century and we hope to be able to continue, and pass the mantle to the younger generation, to carry on the good work we have been able to achieve, together with them. To celebrate the 25th anniversary of NPAK we decided to add a symbolic gesture to our tradition. We have organized a group exhibition without a curator. We have sent out personal invitations to artists who work or have worked with us in the past, and have asked them to participate by contributing preferably a new piece of work. We have announced that there will be no thematic, style, medium, or any other restriction or precondition. The artist will be the sole decision-maker of what to show. 46 artists responded positively and honored us with their participation. We thank them all. Each participating artist has also been asked to provide a short statement to accompany his/her work at the exhibition, as "Text-Art". Again, besides the restriction on the length of the statement there has been no precondition or restrictions. Some have sufficed with 2 or 3 word statement, some have philosophized about art and others have quoted a favorite phrase or a poem, and so on. This brochure contains these texts.
Organizer: Edward Balassanian