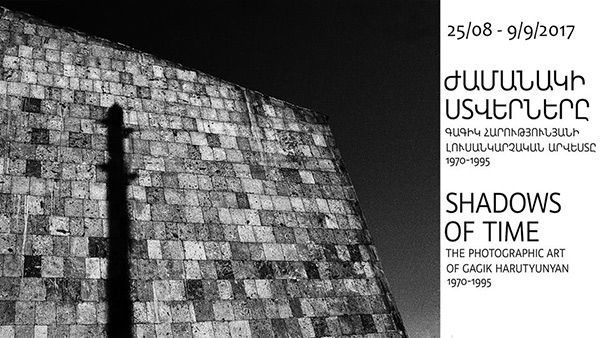 Lusadaran Armenian Photography Foundation and KulturDialog Armenien Foundation present the retrospective exhibition Shadows of Time: Gagik Harutyunyan's photographic art 1970-1995, at the Artists Union of Armenia, Yerevan.
Official opening ceremony and book launch: August 25, 2017, 6pm.
Curator: Vigen Galstyan Project director: Sona Harutyunyan.
Shadows of Time is a large-scale exhibition that shines a spotlight on the little-known heritage of late-20th century Soviet photography by presenting the first retrospective of Gagik Harutyunyan (b. 1946), one of the major Armenian photographers of the 1970s-90s.
Organised by Lusadaran Armenian Photography Foundation and KulturDialog Armenien Foundation the exhibition and its accompanying catalogue (published in Halle, Germany) represent Harutyunyan's entire career through 183 works, many of which are shown to the public for the first time.
Harutyunyan was a recognised master of documentary photography since the early 1970s and countless of his photographs were continuously published in the Armenian and Soviet press.
He is the only Soviet-Armenian photographer to have pictured Africa and has produced distinctive series dedicated to Latvia, Estonia, France, Austria Belgium and other countries. But the artist's primary objective has been to create a truly analytical portrait of Armenia's transforming society, which he methodically constructed using the innovative format of investigative serial photography.
Reaching a point of disillusionment in the late 1990s, Harutyunyan destroyed most of his printed photographs. His negatives remained, however, and two hundred of them were digitally restored and printed in the frames of this project, which took over six years to complete.
Thus, the photographs assembled in this first retrospective exhibition highlight the evolution of Harutyunyan's vision, from the poetic depictions of Armenia in the 1970s to the philosophically unsettling questioning that marks his last series.
In its multilateral scope Shadows of Time newly reveals the expansive panorama of Gagik Harutyunyan's oeuvre and confirms its crucial importance for the history of modern and contemporary Armenian art.
The exhibition project is realized in the frames of the 'Regional Art and Culture Project in the South Caucasus', which is managed by the Culture and Management Lab with financial support of the Swiss Cooperation Office for the South Caucasus (SCO).
The publication of the catalogue was made possible thanks to the generous sponsorship of Dr. Gisela and Dr. Rainer Fritsch.