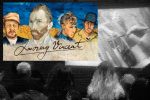 "Life is a Picture, Make the Picture Alive."
ReAnimania
9th ReAnimania International Animation Film & Comics Art Festival is again in Yerevan. The first film that is announced to proclaim the beginning of the animated week is the world's first fully painted feature film "Loving Vincent". It is a biographical animated drama film which introduces the misery that surrounds the death of Vincent van Gogh. Each of the film's 65,000 frames is an oil painting on canvas, using the same technique as Van Gogh, created by a team of 115 painters. All in all, nearly 125 animators were responsible for the animation. There were used nearly 49 landscape paintings and 19 portraits. The focal point of the plot is the letters of the painter dedicated to his brother Theo. The film is directed by Dorota Kobiela and Hugh Welchman and producers of the film are Hugh Welchman, Ivan Mactaggart, and Sean Bobbitt.
Sean Bobbitt who was one of the producers was in Yerevan and on October 29 he introduced all the essence of the process of creating. He claims that the whole work was full of difficulties and the painters, the whole team had to come up with several technical barriers. One of the most pivotal techniques was the graphics. Basically, the whole movie was created by the same elements of design and color, that was in Van Gogh's artworks. The costumes, the furniture, and even the hairstyles, every detail was meant to transform the viewer to the 19th century.
---
The most astonishing fact was that painters knew nothing about animation and there was a lack of animation skills. However, they managed to make a success based on very poor knowledge.
Sean Bobbitt claims that they divided the painters into several specializations and each of them was responsible for one character. Each of the paintings required an individual approach. While examining the whole movie the viewer may notice the gentle transitions between Vincent's paintings and the sharp color contrast. Some of the paintings were changed because of the plot of the movie. As Vincent's artworks were mainly optimistic and in high-value colors., some of them were changed to from day-time to night-time to match the content of the scenery.
"All we wanted was to emphasize the mystery that surrounded his death and the movie is not about his biography. Via this film, we see Vincent as he saw us."
Sean Bobbitt (the producer of "Loving Vincent")
---
ReAnimania International Animation Film & Comics Art Festival will take place from on October 28 – November 3. Get ready to feel the Art of Animation and Animated films in Yerevan.