Arshak Tchopanyan was born in 1872 in Constantinople. Primary education he received in Maqruhyan school in the area of Peshiktash, since 1887 he studied at Central school of Constantinople. The pupils of the school had fluently known modern and ancient Armenian (grabar), French, which were allowing to study modern and ancient Armenian literature, as well as the works of world classics. As a result, Tchopanyan started to translations of French literature, which was published in "Arevelq" (East) newspaper, edited by A. Arpiaryan.
After graduating from High school Arshak Tchopanyan taught in schools, at the same time he wrote prose, articles about French literature for Arpair Arpiaryan "Hayreniq" (motherland), and became its regular contributor.
In 1892 Arshak Tchopanyan became the author of the collection "Voices of dawn" (Arshaluisi dzainer), which included poetry, proses and literary works. In 1893 the play of A.Chopanyan "Mut khaver" was successfully performed in the districts of Constantinople.
In 1893 Arshak Tchopanyan went to Paris for a year, to complete the philological work that he started in 1892 "The life and work of Petros Duryan".
In 1895 A.Tchopanyan returned to Constantinople, where he founded a magazine "Flower" (Tsaghik) publishing twice a month, where he had wrote articles about Grigor Narekatsi, Hakob Paronyan, Petros Adamyan and about Armenian writers living in France. It was a very important initiative, which was interrupted due to political events of 1895. These events have caused a mass emigration and the bright figures of literature left for European countries, where they continued their work.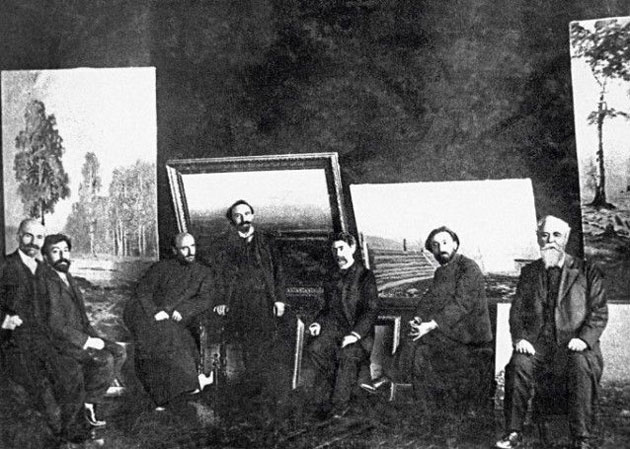 So, in 1898 in Paris Arshak Tchopanyan founded the literary-art magazine "Anahit", which was associated with his further life. In Paris literary work of Tchopanyan found a new spirit, free from censorship.
"Anahit" has published in period from 1898 to 1911 and from 1929 to 1949. Tchopanyan was the editor of magazine, also an author of numerous articles on Armenian social, political and cultural life, and he also wrote the news section. Program of the magazine "anahit" was publications of research about the literature, art and language of Armenians, scientific articles, poetry ans prose in Armenian and foreign languages. The news section of the magazine was an invaluable chronical of the Armenian public and intellectual life, which included literary, social and political events, and obituaries of deceased persons. Naturally, this program eventually expanded and improved.
Arshak Tchopanyan published in "Anahit" classic literature examples of ancient and  futher centuries, articles devoted to various fields of art: painting, music, theatre, architecture, sculpture. In the magazine were printed invaluable researches of Toros Toromanyan about ancient Armenian architecture, the articles of Garegin Hovsepyan about Armenian miniature. Arshak Tchopanyan separately issued articles about Komitas,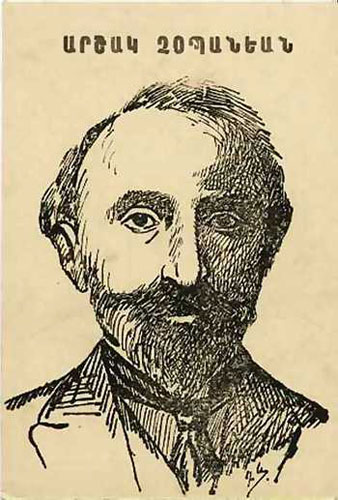 Alexandr Spendiaryan, Edgar Chahine and many others. Interestingly, Edgar Chahine was the author of the first cover of the magazine in the style of ancient Armenian miniature, and the author of second cover was Melqon Kepapchyan.
This huge work could be done only by a highly gifted person with a broad education and the hard worker, who was a true patriot and spread the culture of his homeland across the world, thus fighting with enemy, not allowing him to destroy his nation. "Anahit" magazine raised the intellectual level of the reader, became the connection with the world culture.
Arshak Tchopanyan dedicated many works to the Motherland, which most part were written in Paris. Tchopanyan had several aliases: Butterfly, Darwish, a Dreamer. His works had a great influence on Western Armenian literature, as well as on the development of critical thought.