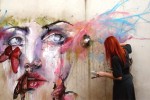 Silvia Pelissero born in Rome who is known with pseudonym Agnes-cecile, is only 23 years old, but her art is already known in the different countries of the world. Silvia paints with watercolor, oil, acrylic, ink, lacquer, etc. She graduated from art scool after Giorgio De Chirico . She has become famous in the world for her videoclips where just in front of the camera, she creates her artworks with skillful brushblows.
The works of Italian talented painter are full of bright colors and sadness. Her heroes are rational people thinking, shaking with everyday concerns. Her paintings vividly express the heroes' emotions,which are actually her own feelings and experiences.
During one of interwiews she was asked what she wanted to express trough her art, she answers: "When I look my paintings I see them as pages of a diary, but this is just for me. I don't want my images to clearly describe my thoughts, from my artworks i want to stand out just the same feeling that I felt, not the story behind it."
Sesila's paintings reveal her unique different handwriting.Her painting technique has reached its peak, which is particularly evident in watercolors. It is well known that only skillful hands can master theart of watercolor. She uses the flowing risings and fallings of color so skillfully, that the laters become a part of the image, giving the work a unique charm.
We can definitely say that this artist possesses a special aerial and transparent watercolor technique. She manages to convey breath and feelings to paper. She creates her characters with realistic details, which are seasoned with a fantastic motives. As a result, the hero painted with the smallest details in colorful, aerial and unreal environment.