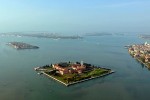 On the 6th of May began the Venice Biennale. It is the most famous Biennale in the world. Every year, hundreds of artists, visit Venice especially in order to participate in this event. This year artists from the Armenian diaspora are presented. The name of the Armenian pavilion is «Armenity/Hayoutioun». Participation of Armenian artists at the Venice Biennale this year is dedicated to the 100th anniversary of the Armenian Genocide. At the heart of the exhibition are questions of ethnicity, the Armenians, the idea of ​​justice and memory. Participating artists: Silvina Der-Meguerditchian (Argentina/Germany), Haig Aivazian (Lebanon), Rosana Palazyan (Brasil), Nigol Bezjian (Syria/USA), Yervant Gianikian & Angela Ricci Lucchi (Italy), Sarkis (Turkey/France), Aram Jibilian (USA), Mekhitar Garabedian (Belgium), Mikayel Ohanjanyan (Armenia/Italy), Nina Katchadourian, (USA/Finland), Melik Ohanian (France), Hrair Sarkissian (Syria/UK), Aikaterini Gegisian (Greece), Rene Gabri & Ayreen Anastas (Iran/Palestine/USA), Hera Buyuktashchyan (Turkey), Anna Boghiguian (Egypt/Canada).
Curated by Adelina Cuberyan
Opening May 6, 2015, from 7 to 9pm.